This past weekend marked The Growlers' fourth Beach Goth held at The Observatory in Santa Ana. The festival had its share of big acts this year (Julian Casablancas + The Voidz, Grimes), but what really caught my attention was the caliber of new talent (Sunflower Bean, Plague Vendor) and let me tell you, they kicked ass. As a whole, Beach Goth IV turned out to be the festival of the year.
Let's start with Saturday's line-up. Due to famed Los Angeles traffic, I missed a few of my favorite acts: Drowners, No Parents, and Mr. Elevator & the Brain Hotel, but I'm sure they killed it as always. My first set of the day was Orange County's own The Aquabats. MC Bat Commander came out on stage with a torch, spiting fire. If that doesn't explain who they are, I don't know what would. Stoner-Rockers Tomorrow's Tulips played a set in The Graveyard stage to a packed crowd; Matt Taylor of The Growlers watching from the stage. Jonny Pierce of The Drums hit the main stage with dyed blue hair, while Jacob Graham watched the crowd with intensity, making hand motions reminiscent of 80s synth-rock. UK's anarcho-punkers Subhumans drove the audience wild; mosh pits and stage divers galore. They still performed with the intensity they came out with 25+ years ago.
The Mummies came on stage with break-neck speed proving that they're still one of the greatest bands to watch. Trent Ruane fed off of the crowds energy holding his keyboard above his head and attempting to light his fellow Mummies on fire with a lighter. I was very excited to see Wanda Jackson; I mean, she dated Elvis Presley and Jack White produced her last album, come on! She still sounded as amazing as ever and the crowd was cheering her on throughout her set. I had the good fortune to interview Jesse Hughes of Eagles of Death Metal for our first issue out November 1st and he is one the nicest people you'll ever meet. Along with that, he also has an unbelievable presence on stage; his buddy Josh Homme joined the band on drums.
Closing the night were The Growlers all dressed up as skeletons in the theme of Beach Goth. I've seen them a good number of times, but I have to say this was their best set yet. Newly married Brooks Nielsen has a voice that commands you to stop and listen to every poetic lyric he's strung together. The band as a whole is tight; they listen to each other and they connect on every point. They closed the night out on two Velvet Underground covers: Venus in Furs and White Light/White Heat. It was certainly a great ending to the night.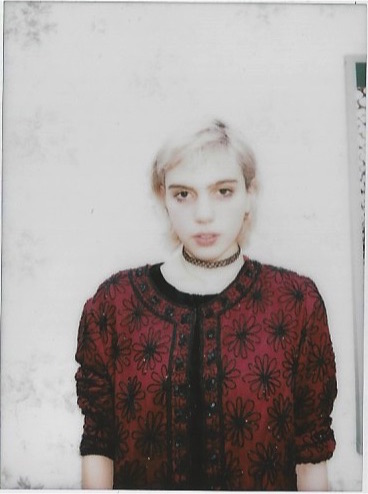 Starting off Sunday's line up were The Frights. I didn't know much about them before, but after seeing their set and their cover of Violent Femmes - Add It Up, they quickly became one of my favorites of the weekend. After them came Mystic Braves filling up the air with Animals-esque 60s keyboards and psychedelic grooves. I first saw Corners at Lollipalooza this year and was looking forward to seeing their set at Beach Goth. Tracy Bryant came on stage with the intensity and coolness of Ian Curtis, while Jeffertitti gave off this Sergio Pizzorno vibe. They had the house going wild! From then on each band got better and better, in this case, Plague Vendor. This was another band I hadn't heard much of, but when Brandon Blaine stepped foot on stage, you knew you were watching something big happen. They're loud, they're fast and they know how to get a crowd going. Make sure you see these guys live if they're ever in your city. All-girl Rock n Roll trio The Coathangers filled up The Graveyard stage to maximum capacity. With "Crook Kid" Coathanger on vocals and guitar, there was no place anyone would rather be. The band played fast and with a hell of a lot of energy, making them one of the best sets of the weekend.
Strokes frontman Julian Casablancas headlined Sunday with his band The Voidz and brought a huge crowd out to the main stage. Tyranny, in my opinion, was one of 2014's best albums and having seen them perform live multiple times, it's always a pleasure to catch their set. I ran into the incredibly kind "Beardo" backstage to snap some shots and caught up with Julian where he posed for a polaroid before heading on stage. Allah-Las played an amazing set at The Graveyard stage that made me feel like I was time-warped back to the 60s; everyone backstage was dressed accordingly.
I caught up with Night Beats later in the night to get some shots and ask them a few questions. As for their show, they had everyone dancing throughout their set. The psychedelic trio brought us great music and a powerful rhythm section.
What was your first record?
Lee Blackwell: I think it was L.A. Woman by The Doors.
James Traeger: Really? Mine was Soft Parade.
Jakob Bowden: I think it was...Elvis. The Blue Hawaii album.
LB: This festival called Areo One where Outkast played and, I think, David Bowie, Incubus, Moby. It was all these awesome bands back then. That was in Dallas.
JT: Duran Duran. It was in Dallas as well.
JB: I really can't remember. In Bedford, Texas I saw....shit. Well, I saw a cool show one time in Bedford.
LB: Arthur Lee of Love, Hendrix, Bob Dylan, Spacemen 3, James Brown.
JT: Chuck Berry, The Wrecking Crew, The Swampers.
After seeing so many great bands this Beach Goth, it's a hard to say who "the best" was, but watching Sunflower Bean blew me away. Consisting of Julia Cumming on vocals and bass, Nick Kivlen on vocals and guitar and Jacob Faber on drums, these guys know how to command a stage. They're all great musicians and they have fun playing. Keep your eyes and ears open for them, we'll be seeing much more soon.