PHOTOGRAPHY Jasmin Storch
WORDS Julian de la Celle
There's been a mass amount of exceptionally talented bands coming out of Sweden recently, some of which we've featured in the past (MANKIND, HOLY), and now we're happy to introduce you to: Tella Viv. Model Carl Hjelm Sandqvist fronts the band along with Adam Odelfelt (right) and Benjamin Laven (left) and the three-piece have been making some really cool, trippy psych-garage music. Tella Viv have a new single coming out in June, so keep your eyes, and ears, open for more from them!
 
FOXES: Where are you guys right now and what are you doing?
We have just released our new single "Sworn" and are getting ready for NYC!!!
FOXES: How did the band all meet?
Adam: Let's not go there...
Carl: Adam and Benjamin met when they were infants. They are cousins and I'm their old friend.
FOXES: What made you want to play music?
Benjamin: Not having any friends except for my records.
Adam: My father always encouraged me and Carl to create stuff, the first time we were at his place he gave us the opportunity to record a song and make a music video. And then it continued…
FOXES: Other than music, what else do you guys pursue creatively?
Adam: Design.
Carl: I write a lot.
Benjamin: I kidnap and paint strangers dogs.
FOXES: Who are you listening to right now?
Benjamin: Tallulah Gosh and Tiger Trap
Carl: Lizzy Mercier Descloux.
Adam: Life of Pablo and Puzzle.
 
Watch the video for their new single "Sworn" here filmed and directed by Céline Barwich.
FOXES: Do you remember the first record you ever bought or that was given to you?
Benjamin: It was called Zero Zero and featured child-friendly covers of 50's rock and roll songs
Carl: It was either the Batman Forever soundtrack or Space Jam.
Adam: My mother gave me Kent "Vapen & Ammunition", never became a super Kent fan but i really enjoyed that record in particular.
FOXES: Do you remember the first concert you went to?
Adam: No, although I remember attending 50 cent around 2003... .
Carl: Hate to break it: Red Hot Chili Peppers.
Benjamin: I saw Five in 2000. It was amazing.
FOXES: Do you have a spirit animal?
Adam: Tiger.
Benjamin: Turtle.
Carl: I am the bat.
FOXES: What's something people may not know about you?
Carl: I really am the bat.
Benjamin: I absolutely love antiques roadshow.
Adam: My ears are asymmetrical (NOW ITS OUT THERE.)
FOXES: What's coming up for you next?
Adam: Work, play, travel.
Carl: Yes same, same same!
Photographer Jasmin Storch captures the spirit of the boys in a series of photos, seen below.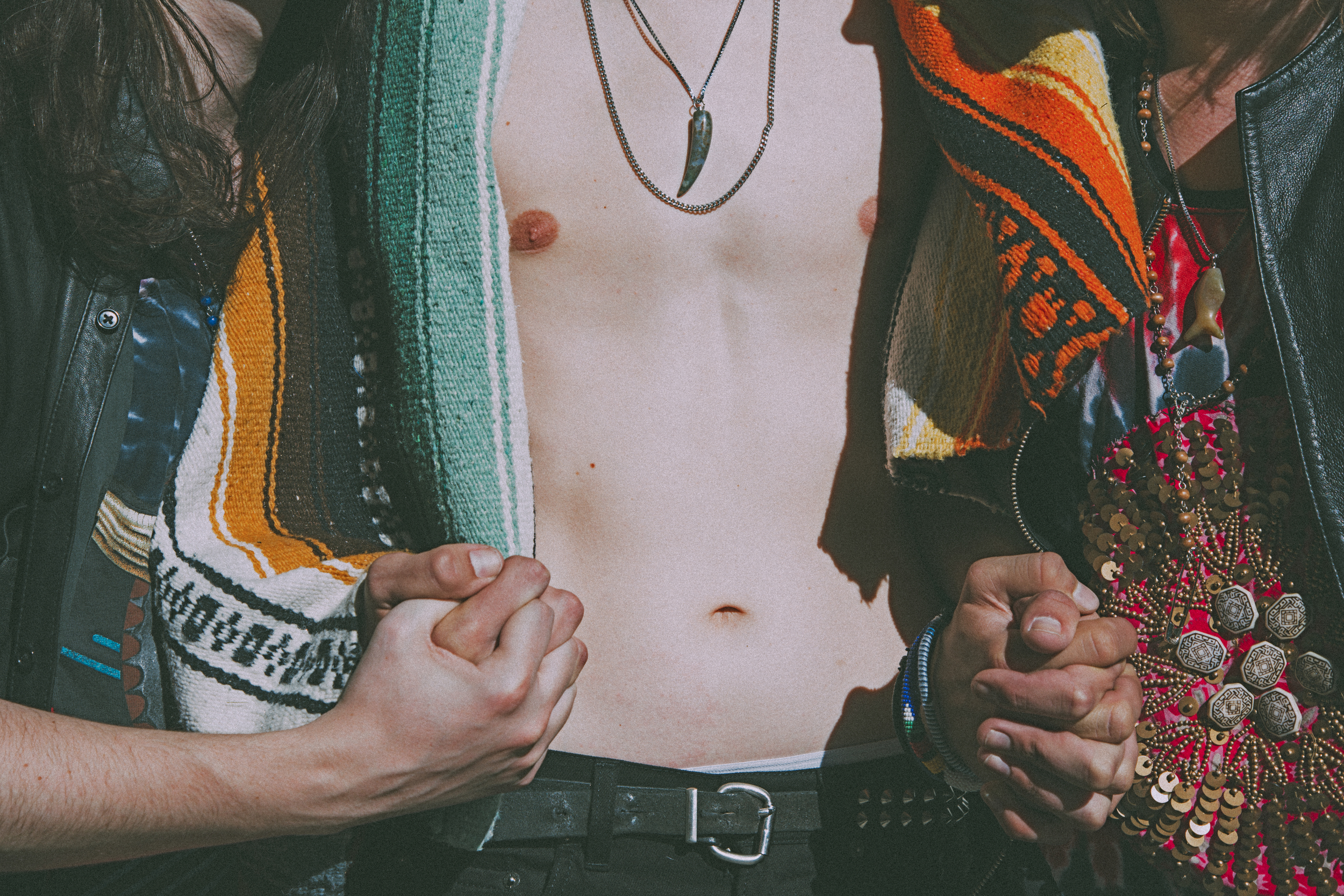 Carl - Jeans by Acne, shoes by New Balance.
Adam - Jeans by Acne, shoes by Adidas.
Benjamin - Jeans by Nudie, shoes by Vans.

All other clothes are vintage. Christopher Insulander (@crapdiem).