WORDS & PHOTOGRAPHY Lauren Frauenschuh
On Thursday evening, I had the pleasure of spending some quality time with New York's coolest kids. The event was all put together by the extremely talented photography and film duo from Miami, Wiissa. They used a cute little space in Bowery in order to celebrate the release of their new short film entitled "Midnight Ramblers". The video emphasizes to redeem the word "groupie" by telling the story of a group of passionate young ladies who make it their purpose to accompany their favorite music wherever it goes. The whole event was like a time machine, bringing us back to the era when girls wore flared pants, painted their faces and when guys knew how to combine colorful clothing. The people there all had their own little story, told by the way they were dressed and behaved. A combination of talent, passion and excitement floated in the air, ready for everyone to breath in. It felt so real and natural and served as a time off from the troubles and worries going on in the world right now.
Thank you Wiissa - you sure do know how to bring people together!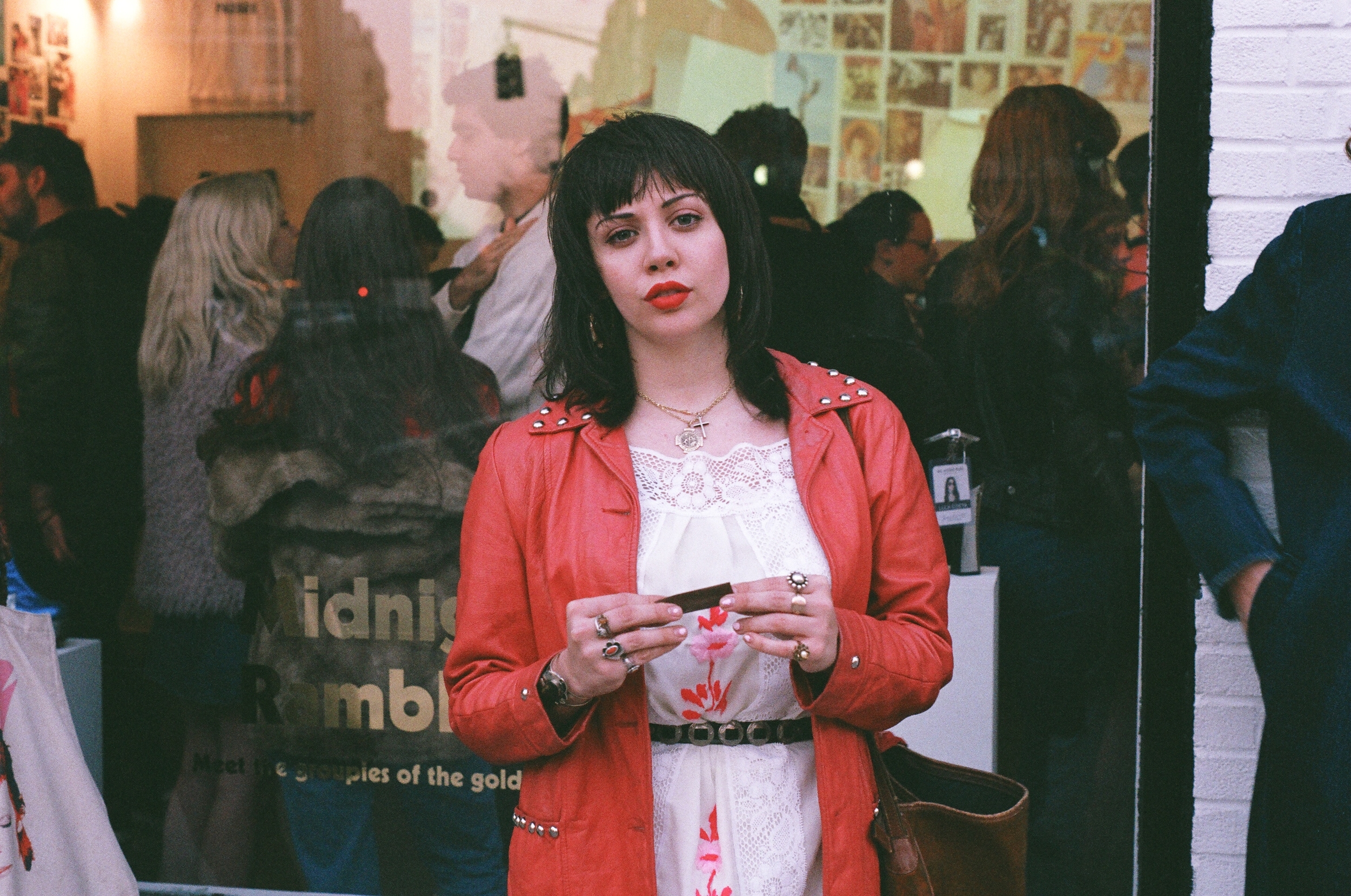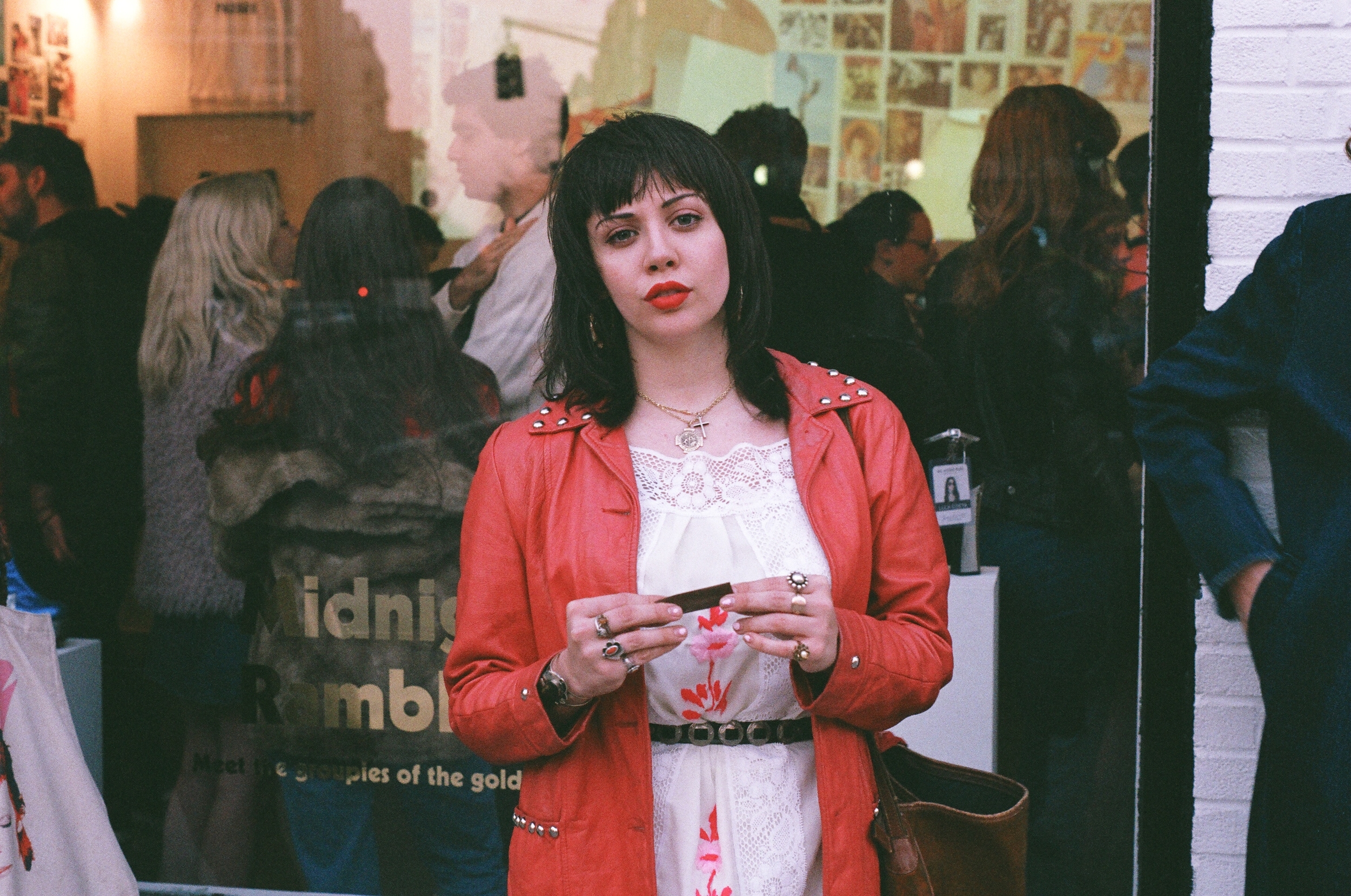 Check out the interview below!
FOXES Magazine: Tell me about yourselves. How did everything start?
Vanessa: So, Wiissa is a combination of our names - Vanessa and Wilson. We met in Miami, both of our hometowns. Well, we have a lot of hometowns, but that is our hometown. (smiles) We met at 14 and 15. We started just taking photos for fun of each other -we didn't really think much about it. I mean, we played around with video and photo before we met too. And then on weekends we would start doing stuff with our friends, just like making our own little scenes. Gradually it kept on growing and growing. It all happened totally naturally.
Wilson: Can't really pinpoint anything that made it happen. But NOW we are fully invested and this is what we do. Now we do photo and video. We have always done video, I guess, but we are shifting more towards video now.
FOXES Magazine: Have you always shot on film?
Vanessa: When we first met, Wilson had a digital camera. Then when I turned 16 for my birthday, he got me a film camera (a Pentax cable 1000) and that was both of our first film cameras.
Wilson: Then my digital camera broke one summer and all we had left was her camera, a film camera.
Vanessa: Which was a blessing in disguise. (laughter)
Wilson: So when my digital camera broke, it told me to only use film pretty much. Now we only use film.
FOXES Magazine: That's when you know that it all happens for a reason.
FOXES Magazine: I noticed a strong representation of femininity in your work. Any specific reason or did it just happen naturally?
Wilson: We are really picky with the guys we appreciate. There aren't any guys with long hair anymore and that is what we are after.
Vanessa: Also for me, I have been surrounded by girls my whole life. Other than my dad there weren't really any guys in my life. I was just like - girls, girls, girls. All my friends were girls so it just made sense that we shoot girls.
Wilson: I am the opposite - I have been surrounded by guys all my life. But this summer we are trying to shoot guys.
FOXES Magazine: Now, let's talk about your short film. What gave you the inspiration for Midnight Ramblers?
Vanessa: I have been so obsessed with groupies for so long. I was obsessed with this band in high school. Crazy how obsessed I was. That's all I talked about. But italways was about the music and everyone just called me a groupie and I never understood that. I mean, in Miami, I went to so many concerts where I hadn't even met a musician yet. And why is everyone throwing it around as an insult anyways? I didn't really get that. Then one day, my really cool English teacher played "Almost Famous" in class. I thought it was so cool and acceptable. Then when I came to New York, I met so many people that were just like me. I usually become friends with people that also have a deep obsession in music, honestly. And the two books I'm with the Band and Let's Spend the Night Together by Pamela Des Barres have been a huge inspiration.
"People think they [groupies] are being desperate or exploited, but honestly they are just doing what they really love. And I think that is as empowering as it can really get."
Vanessa: We just wanted to redeem the word "groupie" a bit. It just has such a bad reputation. And everyone assumes that the women didn't do anything, but they all did more than follow bands. And even if they did just follow the bands, what is the problem? People think they are being desperate or exploited, but honestly they are just doing what they really love. And I think that is as empowering as it can really get.
Vanessa (cont'd): (looking at Wilson and smiling) I think he can't hear the word "groupie" anymore.
Wilson: (laughing) We did shoot it a year ago. It took so long with the editing and the music rights. I am happy to move on to the next project now!
FOXES Magazine: Yeah tell me, what is coming next?
Wilson: More videos. We want to film one in France and the other one in Brazil. These films might be too ambitious to pull off, but we'll do our best to get them done!
Vanessa: It might also be commercial work. That is always last minute stuff.
Wilson: We were able to do a commercial job that has really been to our style as to the same thing as our personal projects.
Vanessa: Yeah that was the best… Which it almost always has been. We've been very lucky to work with people who are on the same line as us and want what we usually do and they just trust us. I don't get people that would would hire someone if they don't want their style.
FOXES Magazine: Favorite song right now?
Vanessa: "Uptown Top Ranking" by Althea & Donna
Wilson: "Hot Burrito #1" by The Flying Burrito Brothers
FOXES Magazine: Now, let's play a little game. I give you two words and you pick one, as simple as it is!
Red wine or white wine?
Wilson: Red.
Vanessa: White.
Black and white movies or color?
V&W: Color.
Music festivals or renting a beach house with friends?
V&W: Renting a beach house with friends.
Vintage or new?
Wilson: Vintage.
Vanessa: Clothes that are new, but look vintage!
The sun or the moon?
V&W: The sun.
Staying home or going out?
Vanessa: Going out.
Wilson: Staying home.
Breakfast or dinner?
Wilson: Dinner.
Vanessa: Breakfast for dinner.